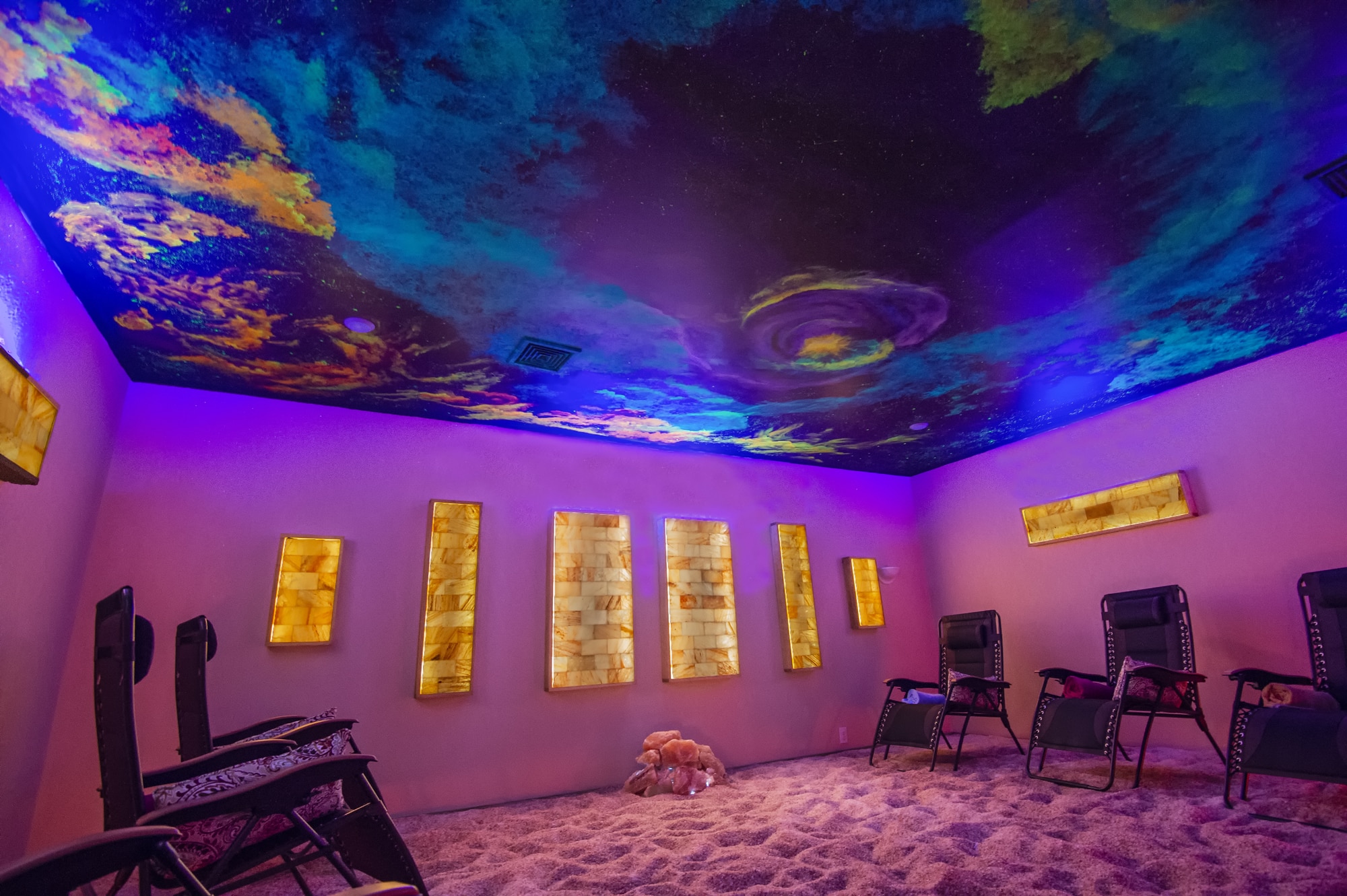 The Salt Cave, Private Halotherapy Room and Salt Booth are open – Welcome!
Halotherapy is an alternative healthcare service that utilizes salt for its health benefits! Salt is antibacterial, antimicrobial, and a natural disinfectant. Spending time in a salt cave that is saturated with tiny salt particles can improve respiratory health, boost the immune system and improve skin issues and is beneficial to your mind, body, and spirit.
Sooth away the stress and tensions of life, while relaxing in a quiet, peaceful environment. Located at 3723 N. Croatan Highway (the bypass), in Unit G. Our salt sessions in the main cave begin at the top of the hour, and last for 45 minutes – it's a slice of serenity in our hectic world.
Step into the Salt!
Enjoy the serenity of our salt cave while you experience dry salt therapy. There are eight zero-gravity lounge chairs in the cave where you can lie back and listen to music, enjoy the visual of the Lagoon Nebula on the ceiling, and breathe deeply to draw the pulverized salt particles into your airways. The inhaled salt clings to your soft tissues, thinning congestion in sinuses, bronchial airways and lungs. Dry salt therapy is an alternative, complementary treatment to relieve symptoms of asthma, allergies, colds, flu, cystic fibrosis, COPD, and emphysema, as well as snoring and sleeping problems. Regular treatment is also beneficial in treating skin conditions such as acne, psoriasis and eczema.
Monday – Friday: 10 am – 6 pm – last cave and private room sessions begin at 5 pm; retail and salt booth available until 6 pm
Saturday: 10 am – 5 pm – last cave and private room sessions begin at 4 pm; retail and salt booth available until 5 pm
Sessions begin at the top of the hour and last for 45 minutes. Please arrive 15 minutes prior to scheduled session start time. No admission after the session has started.
Cave session ($35). Look for special events on the Events Page.
Private Reiki sessions are available in the Salt Cave and are listed as a separate booking when you click the link above.. A session is 30 minutes ($40) or a full hour ($80) and these are conducted by Tiffany D. Riggs.
To learn more about health benefits of the salt cave, check out our Benefits of Salt Cave page!
Salt Booth Therapy
Individualized sessions are available in our new Salt Booth. Spend 10 minutes in the Salt Booth and receive the same salt therapy as a 45-minute session in the Cave – a faster solution, still relaxing, but less time to commit. There are 10-minute sessions which are standard and 20-minute detox sessions that deliver double the pulverized salt, which is great for treating the leftover congestion from a cold or flu or bronchitis.
Parents can bring a younger child to the booth for a parent/child session – 15 minutes with fewer distractions for young children — as young as one month. Children must be 13 years old for a full cave session
The booth has a backlit wall of Himalayan salt and the colors can cycle through the spectrum or can be set to bright white to help alleviate symptoms of Seasonal Affective Disorder (SAD).
Another feature of the Salt Booth is a vibro-acoustic sound system. The headphones create vibration that is conducted through the bones of the skull, resonating in sinus cavities which helps relieve sinus congestion that may cause headaches and facial pain.
Come and experience this soothing salt treatment. One of our clients said that her 3-day old headache disappeared during the 20-minute session.
Come try the faster salt session in our light/color/sound/salt booth –
10 minutes of condensed salt therapy for the busy person ($20)
15 minutes for the parent/child session ($30)
20 minutes for the detox session ($25)
Monthly membership and passes available at special pricing.
Featuring synchronized edge-lit chromotherapy walls and vibroacoustic sound therapy, the salt booth also has a back-lit Himalayan salt brick wall – try it for Seasonal Affective Disorder (SAD)
Private Halotherapy Room
Monday – Friday: 10 am – 6 pm – last session begins at 5 pm
Saturday: 10 am – 5 pm – last session begins at 4 pm
Relax and enjoy the solitude in our newest halotherapy room. There are 2 leather reclining heated massage chairs and a Himalayan salt abundance bowl with hot purifying salt stones for warmth and massage. At the center of the room, a personal halogenerator provides halotherapy. Also available is an array of crystals if you'd like to indulge or try your hand at crystal therapy, as well as an acupuncture mat to complement your experience. With room for one or two people, the room is kept at a cool, comfortable temperature with plush blankets provided. Sound therapy-based music and ambient lighting complete your session. Customize your own experience!
A featured add-on is a new truMedic Shiatsu Foot Massager with Heat, a deep kneading massage therapy and air compression for tired muscles and plantar fasciitis. Relax, release, breathe, 'chill' in our private halotherapy room during the session. Relax, release, breathe, 'chill' in our private halotherapy room for this relaxing session.
The Outer Banks Salt Cave is a Veteran & Woman owned business by Phyllis K. Miller.
Why Salt Cave?
We're the premiere salt cave on the Outer Banks!
Affordable
Natural
Safe
Non – Invasive
100% Drug Free